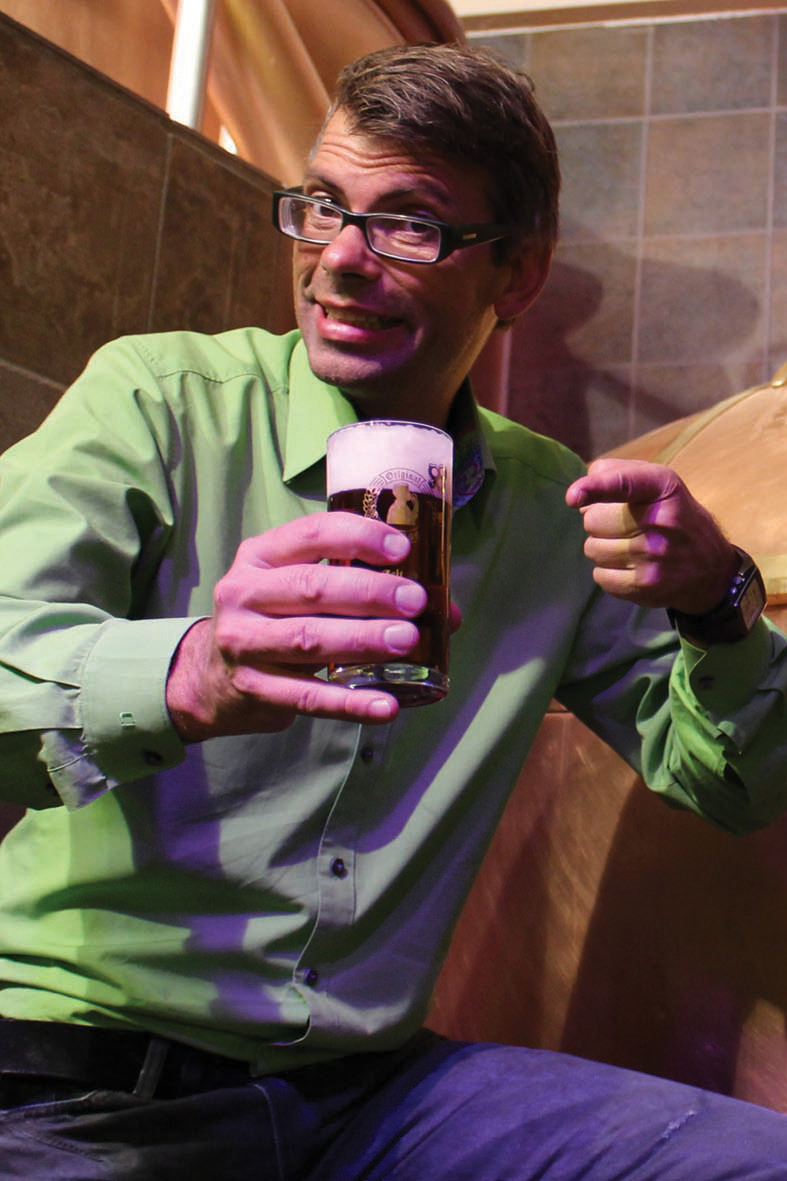 comedy brewing seminar with Lars Hohlfeld
In 2014 this tour was mentioned in the New York Times as a "Must see" in Düsseldorf!
What's brewing? The comedy brewing seminar with the guaranteed aha effect.
If you've ever wanted to know how ALT beer is brewed but lack the lingo to unlock the mysteries of old beer brewing, have we got something for you: the first-ever comedy-brewing seminar!
It's the only seminar of its kind combining laugh-out-loud humor with expert knowledge; providing infotainment with that special aha effect. In a little under an hour we'll transform you into an ALT beer connoisseur, into an old beer-brewing expert!
Running the seminar is none other than comedian and comedy writer Lars Hohlfeld, who, by the way, knows a thing or two about beer.  And not just about drinking it!   He's been a regular on TV and is also the host of the stand up comedy show "Pop up Comedy." By way of funny anecdotes, humorous spontaneity and the personal charm and style of the man in the green shirt himself, you'll learn all there is to learn about the beer that's been awarded the coveted Golden European Beer Star Award: Schlüssel-ALT.
And not just that: you'll also get to test it, taste it and if you want to, even smell it during this one-of-a-kind gastronomical event that will refresh your senses and bring laughter to your face!
At the conclusion of the seminar you'll be able to answer important questions like: How do the bubbles actually get into an ALT beer? Why does it take a Pilsner just 7 minutes while a good ALT needs a full 21 days? And last but not least, the question many have been asking since the beginning of time:  what exactly IS the difference between ALT beer from Düsseldorf and KÖLSCH from Cologne?
Following your tour, you'll be transformed into a moist and merry hops aficionado with knowledge that no one will dare to challenge. And as proof of your expertise, you'll even get a personalized certificate to hang up and display in your favorite place. And the great thing about it is that once it's yours, it's yours for life! And if that's not enough, how about a glass of tasty Schlüssel Alt on us!
COVID-19 Information:
To be able to hold the event we are obliged to comply with the currently valid Corona Protection Ordinance. The safety and health of our guests, artists and staff is very important to us and we ask for your support in the implementation. The available seats are limited to a maximum of 15.
Before the event:
1. To ensure a possible contact follow-up you will receive a form with your ticket in which you can enter your data in advance. You will need to hand it in at the entrance at the ticket check-in. Your forms will be kept in a sealed envelope for 4 weeks and will be destroyed if the authorities have not started to trace the chain of infection. This saves you from having to enter your data into a list on site and your data is safe and protected from prying eyes. The data collection is carried out for the purpose of tracing infection clusters in connection with COVID-19. The legal basis of the processing is Art. 6 Par. 1 lit. c. DS-GVO in connection with §7 paragraph 1 sentence 4 CoronaVO. The data will explicitly NOT be used or sold for advertising purposes!
2. IMPORTANT: Anyone who shows any of the following symptoms: Cough, fever, sniffing, sore throat, general weakness, diarrhoea, odour and taste disorders please stay directly at home.
At the event:
1. Disinfectant is available at the entrance, at the admission and in the restrooms. Please use it. Thanks.
2. In order to start the event on time, please be at the meeting point 15 minutes before it starts.
3. Access to the event will only be granted to those wearing a mask covering mouth & nose and a completed personal data form.
4. We recommend wearing a mask covering mouth & nose during the whole event.
5. If you have to wait for a short time at the entrance, please observe the distance rules (1.5 m).
6. Observe coughing and sneezing rules (in the crook of your arm) and do not forget to wash your hands after going to the toilet.
7. But hey, laughing and clapping is of course allowed and definitely encouraged. So have fun.
It is necessary to follow these measures and if we all pay attention to them and take care of each other, nothing stands in the way of a moist and cheerful afternoon.